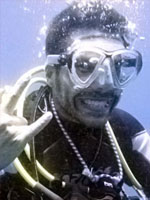 PADI Course Director / TecRec Trimix Instructor Trainer #CD-309685
IANTD Technical Cave / Advanced Rec. Trimix Instructor #9480
TDI Full Cave / Advanced Trimix Instructor #18512
Emergency First Response Instructor Trainer
Qualified Scubapro and Bauer Technician
Project of Auroville Unit "Rock n' Bubbles", Auroville Foundation
Julien Fortin
Julien is 37 years old, born in France, though he has been living everywhere but in France for the past 18 years - and India is the place he calls home. He has a background in engineering, but figured out that teaching Scuba Diving would be more fun. After having worked in the automotive industry, in IT, in web design, in sustainable development, and doing the odd jobs as driver, kindergarden manager, writer or climbing teacher, he therefore became a PADI instructor.
He's been diving for close to 15 years, and since he enjoys traveling, has been exploring the underwater world in California, Cambodia, Cuba, France, India, Malaysia, Mexico, Philippines, Senegal, Sri Lanka, Switzerland, Thailand... And taught more than 600 courses in the process.
He can teach courses in English, French and German - and guide divers in Spanish, Tamil or Hindi as well. Training professionals, being Divemasters, Assistant Instructors or EFRI instructors, is something he loves, as he enjoys sharing tips and tricks about the job and teaching strategies - but Technical Diving courses is one of his not-so-secret passions, which a special weakness for Sidemount, Cave Diving, Deep and Trimix diving.
Some people hate diving theory - Julien is definitely not one of them, and will know no mercy: after enjoying a full day in the sun carrying gear and exploring the depths in all conditions, he won't mind spending hours teaching you all about the background of diving, until your head spins.